---
---
The Hyperlite Murray Wakeboard is no stranger to success. This year's model marks the 20th year the Murray board has been crushing comps, popping ridiculous inverts and stomping deep into the flats. Staying true to its roots, the Murray has the infamous Variable Edge Design and Subtle 3-Stage rocker because the world's most influential rider swears it offers the best experience behind the boat: strong edge hold when you need it, a healthy amount of pop, and fast glide through the water. Commemorate the Hyperlite Murray Wakeboard legacy by strapping in and blasting the fattest raley this world's ever seen -- because it's what Murray would do.
ROCKER TYPE
Subtle 3-Stage – This is the stepping-stone to the 3-Stage rocker style of ride. Utilizing a smaller flat spot between your feet, a Subtle 3-Stage rocker creates just enough vertical pop to know its there.
HULL
Mellow Center Landing Spine
RAILS/EDGES
Variable Edge Design – With a thicker edge between the inserts and thinner on the outside, variable edge design enables a board to be surfy when it needs to be while holding a strong edge through carves.
CORE
Bio 3 Core™ – The secret recipe Hyperlite has been perfecting since day one. This core material is the gold standard in the industry and used throughout the Hyperlite lineup. Bio 3 is Hyperlite's lightest and most durable formula to date.
LAMINATES
CarboNetX™ – CarboNetX is Hyperlite's most innovative construction feature, adding to the most technically packed boards in the industry. Diagonal woven carbon fibers allow the board to store and release energy consistently throughout the ride. Hyperlite's criss-crossed fibers act like springs and tension cables, delivering a responsive feel and added durability accounting for less than 1% of the board's overall weight.
Monocoque Construction – Integrating the top glass and the bottom glass into one. Generating a more durable board on side impacts to prevent delamination.
Layered Glass – Hyperlite's fiberglass is available in 3 weights depending on the board. Over time, traditional woven glass fibers will separate. With layered glass every Hyperlite deck will have the same pop off the double up year after year.
FINS
(4) 0.8" P-Wing
ADDITIONAL FEATURES
M6 Inserts
Shaped by Greg Nelson – The first pro wakeboarder to take the reins in the R&D lab was Nelson. With more than 20 years of design success he's polished his philosophy and likes to produce easy riding boards that anyone can be comfortable on right away. Working with Murray, LaRiche and Maur, he's helped them create the pro model wakeboards they cherish. Hyperlite's Wakeboarding Legend has as much passion for creating boards as he does for riding them.
Ability Level: 

Intermediate-Advanced

Riding Style: 

Wake

Rocker Type: 

Three-Stage Hybrid

Core Material: 

Foam

Base Type: 

Standard Base

Wakeboard Mount Pattern: 

M6

Fins: 

4

Athletes: 

Shaun Murray
BINDINGS
Tired of all the overdone hype surrounding wakeboarding and all the BS features companies keep trying to pump out? Then look to the Hyperlite Remix Wakeboard Bindings -- no nonsense, just a tried-and-true design that can accommodate a wide range of footsizes and holds it down for both beginners and seasoned riders alike. If you're like most, your wakeboard gets used by the whole fam, so strap it down with the versatile Hyperlite Remix Bindings.
FLEX
3 – (1 Soft - 5 Stiff)
Hyperplush Rear Flex Zone – Reduces abrasion on the back of the leg.
FIT
Adjustable Floating Toe Design – A great choice for a setup that needs to fit multiple riders and varying foot sizes. Hyperlite's adjustable sizing is designed to accommodate a wide array of sizes without sacrificing comfort or performance.
LINER & LACING
Dual Quick-Cinch Lacing – Easily adjust the fit at the center and front of the lacing zone.
New Dual Density EVA Footbed – Increased comfort for un-distracted riding.
BASEPLATE
Low Pro Plate System – Hyperlite's new platform offers maximum support, reduced heel and toe lift and unmatched durability. It's the new standard in boot-to-board connection.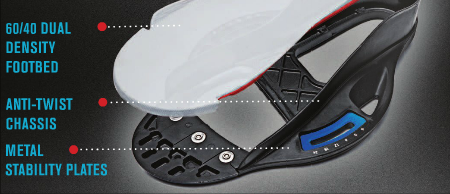 Aluminum Claw Inserts
Ability Level:

Intermediate-Advanced

Binding Style:

Open Toe

Binding Closure:

Laces
---