---
---
The Machete Jr. is the ideal snowboard for the (adjective about the whining baby that stole your youth) grom who (plural verb) snowboarding the entire mountain.
With a super (adjective you would hear a skier use in an 80's movie) twin rocker, the profile of the Machete Jr. lifts the contact points out of the snow just enough to allow for a catch-free ride that is forgiving for (Polite Plural Noun for "kids who snowboard poorly") and will help provide flotation in (body part)-deep snow. Whether your child is doing a front blunt (Number divisible by 90) - (Food Item) - out on rails or spinning (number divisible by 180) off park jumps while grabbing (favorite salad), the Machete Jr. will have your little (Favorite curse word used to describe children) riding so well that (competing board company's team rider) will look like a (mean thing you might have called your mom when you were 14).
RIDING STYLE: Groomers

BOARD SHAPE: Twin

PROFILE: Twin Rocker

RESPONSE: Mellow

THIN CON: ALL RIDE boards feature Thin Construction with tapered tips and tails, reduced swing weight, enhanced tip flex and the sidewall runs past the effective edge.

STANDARD EDGE: Rockwell 48 C.
BIAXIAL GLASS: 90° and 0° angles, fun and forgiving.
EXTRUDED BASE:
The industry standard extruded 1500 Ptex base material. Good wax absorption and easy to repair.
FOUNDATION™ CORE: 
Tip-to-tail Aspen wood core with proven durability that retains pop and flex.



SLIMEWALLS®:

RIDE's exclusive Slimewalls® are forgiving and ductile, absorbing impacts rather than defending against them. Just like your skate wheels, the urethane in Slimewalls® smooths the interaction with the snow, wood or metal surfaces you may RIDE on. On top of all that, these babies are virtually indestructible, the most durable sidewalls in snowboarding.



IMPACT PLATES:

Added underneath each binding area to improve compression strength and prevent board breaks where it matters most. Offered in two levels - single and double.



STANDARD TOP SHEET:

 

Durable topsheet with graphics only RIDE can bring you.
BINDINGS
Set your grom up for success with the K2 Vandal Snowboard Bindings. Color-matched with the K2 Vandal snowboard and boots, this twin strap youth binding features the Grom Tweekback highback and simple to use dual strap system.
FLEX
Flex Rating: 3 (1 Soft - 10 Stiff) – Medium-Soft Flex designed for progression or freestyle riding.
BASEPLATE
Pro-Fusion Chassis – Tough, lightweight polycarbonate / On-board tool-less power ramp adjust / On-board toe strap mount position / Multi-position ankle strap mount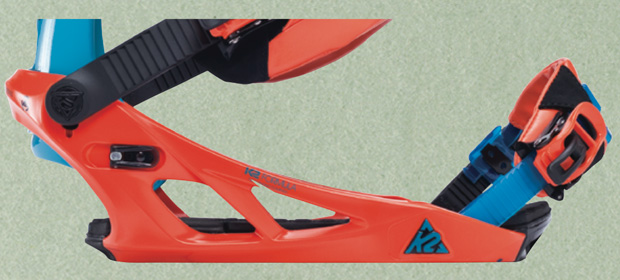 Adjustable Power Ramp – Tool-less Adjustment / Integrated with Full Seamless Footbed
Formed EVA Shockpads
HIGHBACK
Grom Tweekback – Asym shaping to match your natural stance / Center spine for heel-side support / Thermo-formed EVA calfpad
STRAPS
Caddie Ankle Strap – Fully contoured 3D shape fits the boot perfectly / Narrower waist profile for freer flex / Tool-less cam lock centering
Cam Lock Centering – Tool-less and secure adjustment, allows you to precisely enter your straps with ease and speed.
Tool-less Universal Toe Strap – Wear it over the toe or on top of your boot / Cored for a lightweight and secure fit over the toe / Tool-less cam-lock adjust
BUCKLES
Hella RADchet – Designed with a wider tapered ladder opening allowing for an easy entry. The Radchets have cinch housing that keep the ratchet in position at all time. The levers are made of composite.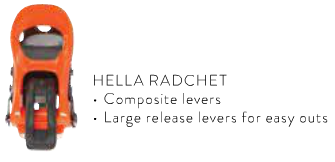 ADDITIONAL FEATURES
Universal MC Disc – Mounts on 4-hole and slot systems. Powerhold washers for bomber locking power.
---