---
---
With the Hyperlite State 2.0 Wakeboard and a can-do attitude, you'll go places
Spend less time trying to perfect your dock starts than previous generations thanks to the progression-ready technology Hyperlite has crammed into this wonder deck. The

 Hyperlite 

State 2.0 Wakeboard features an asymmetrical design that leverages your natural bio-mechanics for a proper stance and carving ability. Combined with an Abrupt Continuous rockerline that carves with little amounts of drag and hits the wake with just the right amount of pop without getting too buck, soon you'll be blasting Raley's like it's nothing!
ROCKER TYPE
Abrupt Continuous
–
This rocker line adds a little more kick to the speed that so many riders look for. The Abrupt Continuous rocker line transitions to a slightly exaggerated tip and tail rocker creating added pop without sacrificing speed into the wake.
SHAPE
Asymmetrical Design
–
Hyperlite found that creating a shorter but more effective edge on a rider's toe-side made hard to learn wake jumps that much easier. This is because there is less rail to initiate when applying toe-side pressure.
CORE
Bio 3 Core™
–
The secret recipe Hyperlite has been perfecting since day one. This core material is the gold standard in the industry and used throughout the Hyperlite lineup. Bio 3 is Hyperlite's lightest and most durable formula to date.
LAMINATES
Monocoque Construction
–
Integrating the top glass and the bottom glass into one. Generating a more durable board on side impacts to prevent delamination.
Layered Glass
–
Hyperlite's fiberglass is available in 3 weights depending on the board. Over time, traditional woven glass fibers will separate. With layered glass every Hyperlite deck will have the same pop off the double up year after year.
FINS
Molded-In Fins
–
In order to maximize durability of traditional construction boards, ABS is introduced into molded-in fin areas. This material reinforces the areas that usually wear down first.
(2) 1.3" Disorder Fins
ADDITIONAL FEATURES
M6 Inserts
Shaped by Aaron
–
Aaron has a solid pedigree in board design and he's responsible for everything that goes into a Hyperlite board today. No wonder he and Rusty devised the Marek which earned multiple "Board of the Year" awards. Always enhancing a wakeboard's performance, whether at the top end with the Kruz Nova or entry level with Hyperlite's bestselling State 2.0, he's Hyperlite's mastermind, killing it for boat and cable riders alike.
Ability Level:

Beginner-Intermediate

Riding Style:

Wake

Rocker Type:

Three-Stage Hybrid

Core Material:

Foam

Base Type:

Standard Base

Wakeboard Mount Pattern:

M6

Fins:

2
BINDINGS
Tired of all the overdone hype surrounding wakeboarding and all the BS features companies keep trying to pump out? Then look to the

 Hyperlite 

Remix Wakeboard Bindings -- no nonsense, just a tried-and-true design that can accommodate a wide range of footsizes and holds it down for both beginners and seasoned riders alike. If you're like most, your wakeboard gets used by the whole fam, so strap it down with the versatile

 Hyperlite 

Remix Bindings.
FLEX
3
–
(1 Soft - 5 Stiff)
Hyperplush Rear Flex Zone
–
Reduces abrasion on the back of the leg.
FIT
Adjustable Floating Toe Design
–
A great choice for a setup that needs to fit multiple riders and varying foot sizes. Hyperlite's adjustable sizing is designed to accommodate a wide array of sizes without sacrificing comfort or performance.
LINER & LACING
Dual Quick-Cinch Lacing
–
Easily adjust the fit at the center and front of the lacing zone.
New Dual Density EVA Footbed
–
Increased comfort for un-distracted riding.
BASEPLATE
Low Pro Plate System
–
Hyperlite's new platform offers maximum support, reduced heel and toe lift and unmatched durability. It's the new standard in boot-to-board connection.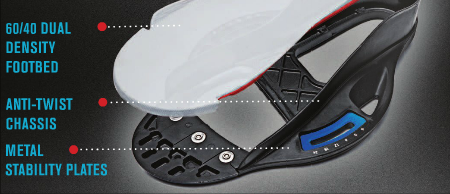 Aluminum Claw Inserts
Ability Level:

Intermediate-Advanced

Binding Style:

Open Toe

Binding Closure:

Laces
---