---
---
If we could marry a pair of optics we'd put a ring on the Anon Deringer MFI Goggles. Sleek, sexy and highly functional, the Deringer MFIs are a women's specific design with Anon's Integral Clarity cylindrical lenses so you won't have to worry about fogging up right before sending it into a narrow couloir or boosting off of a pro-line kicker. The Anon Deringer MFI Goggles are also equipped with Anon's Magnetic Facemask Integration technology, which allows for a seamless and consistent fit with any of Anon's MFI compatible facemasks.
FRAME
Lightweight Thermoplastic Polyurethane Frame – Thoroughly tested on hill and in the lab, anon's TPU has the highest resistance to abrasion, maintains consistent flexibility in changing temperatures and has superior elasticity to fit every face shape.
Wall to Wall – High-performance riding demands the best possible field of vision. Wall-to-Wall incorporates optimal optics in a low-profile frame that utilizes 40% thinner face foam for an ultra-close fit. The result is a truly unobstructed viewing experience.
Frame Height – 93 mm
LENS
anon. Cylindrical Lens Technology – Cylindrical lens construction utilizes de-centered injection technology, which tapers to a thinner profile on the edges for reduced peripheral distortion.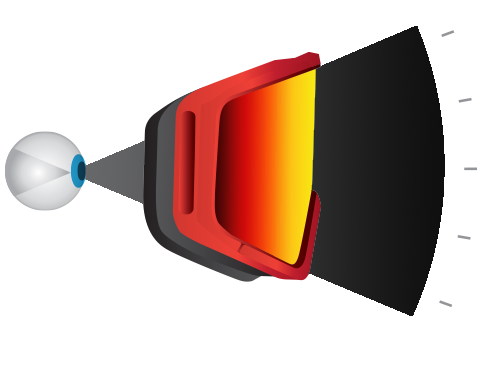 Integral Clarity Technology (ICT) – anon's ICT anti-fog treatment delivers crystal clear vision, no matter what the elements throw at you. Starting with a porous cellulose inner lens surfalarity. ICT works in tandem with Full Perimeter Channel Venting to tell moisture to go fog itself.

VENTILATION
Full Perimeter Channel Venting – Anon's Full Perimeter Channel Venting ensures maximum airflow, bringing fresh air into the goggle while pulling moisture away from the lens. Full Perimeter Channel Venting works in tandem with ICT to provide clear, fog-free vision in all conditions.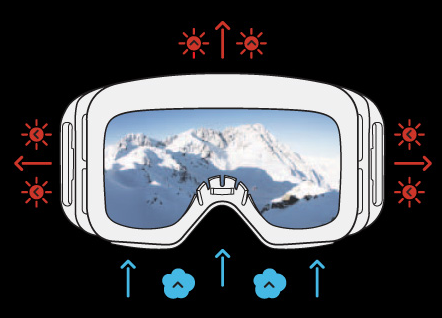 STRAP
Snap-Back Strap on Select Colorways – Designed with anon's Simple Fit in mind, the new Snap-Back goggle strap adjuster makes running your goggles under the helmet even easier, always making custom style and rider comfort anon's priority.
FACE FOAM
Dual Layer Face Foam – Anon's Dual Layer face foams utilize a moisture wicking fleece that provides a perfect goggle-to-face fit, sealing out the elements while providing hours of riding comfort.
FEATURES
MFI® Technology
MFI Facemask Included
Over The Glasses (OTG) Compatible
Women's Specific Design
Micro-Fiber Goggle Bag
Lens Type:Flat (Cylindrical)
Helmet Compatible:Yes
---