---
---
A board preferred by beginner/intermediate riders who like the flowing feel of the original free ride series. The Divine provides a mellower turn with smoother lift off the wake. This series is perfect for the first time behind the boat!
Molded-in Fins
Continuous Rocker
Forgiving 6 degree Edge Bevel
V Bottom Tunnel
M6 Inserts
BIO 3
The secret recipe we have been perfecting since day one. This core material is the gold standard in the industry and used throughout our line. Bio 3 is our lightest and most durable formula to date.
MONOCOQUE CONSTRUCTION
Integrating the top glass and the bottom glass into one. Generating a more durable board on side impacts to prevent delamination.
LAYERED GLASS
Our fiberglass is available in 3 weights depending on the board. Over time, traditional woven glass fibers will separate. With layered glass every Hyperlite deck will have the same pop off the double up year after year.
The Divine provides a mellower turn with smoother lift off the wake. This series is perfect for kids first time behind the boat!
CONSTRUCTION FEATURES
         Molded-in Fins
         Continuous Rocker
         Forgiving 6 degree Edge Bevel
         V Bottom Tunnel
         Monocoque Construction
         Layered Glass
         Satin Flex
         M6 Inserts
Fins: 2 – 1.3 inch Disorder
BINDINGS
Whether you're just getting your feet wet or looking to up your wake game, the Hyperlite Frequency Wakeboard Bindings are a solid choice this season. Offering an impressive blend of comfort, flexible sizing, and superior architecture, the newest manifestation of beginner-intermediate boots from Hyperlite feature a rear flex zone designed to reduce abrasion and molded EVA providing exceptional cushioning in the heel and toe. Even better, they boast  Hyperlite's unique Low Pro Plate System allowing maximum support and increased boot to board stability. With their single lace system and open toe construction, the  Hyperlite Frequency Wakeboard Bindings are easy to share--but you may not want to take them off.
FLEX
Boot Flex Meter – 4
Hyperplush Rear Flex Zone – Reduces abrasion on the back of the leg.
FIT
Adjustable Sizing – A great choice for a set-up that needs to fit multiple riders and varying foot sizes. Hyperlite's adjustable sizing is designed to accommodate a wide array of sizes without sacrificing comfort or performance.
Adjustable Floating Toe Design
One Size Fits Most
LINER & LACING
Single Lace for Easy Entry
Elastic Lace Closure System
BASEPLATE
Low Pro Plate System – The Low Pro Plate System takes much of what HyperLite learned from the System Binding and incorporates it into a more traditional design. We began by reducing the overall volume by nearly 06%, which translates into a much lighter boot. Hyperlite's drop-through footbed keeps a rider closer to the deck for maximum control and response. To ensure the baseless design did not produce unwanted plate twist, they connected the sidewalls to chassis create a stronger foundation.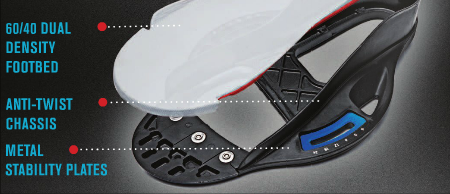 ADDITIONAL FEATURES
Single Density Footbed
Ability Level:

Beginner-Intermediate

Binding Style:

Open Toe

Binding Closure:

Laces
---